Commercial-Grade Ethanol Treatment is now available.

The application of an Ethanol Fuel Treatment is critical to treat the E10 and E15 ethanol-blend fuels. Given that car makers like Ford, Honda, and Nissan has informed their customers that they're not going to cover fuel-related damages if the driver uses E15.
ETHANOL DEFENSE from Bell Performance is the best multi-function defense against ethanol problems and ethanol damage on the market today. Ethanol Defense is a commercial-grade fuel additive to address all fuel-related problems in gasoline engines, including those caused by ethanol.
Ethanol Defense is a must have for your small engine. Most small engines are extremely susceptible to the drying effects of ethanol. These engines use plastic fuel lines and contain lots of little rubber parts.  Small engines that do not get used frequently allow the fuel to eat away at those plastic and rubber parts.  Then there is the phase separation that occurs when the gas sits for periods of time.  Ethanol Defense prevents all of the above
Bell Performance is the father of the fuel additive industry, having produced the first fuel additive on record in 1909, followed in 1927 by the first formulation for its multi-function gasoline Mix-I-Go.
ETHANOL DEFENSE combines multi-function mileage- and performance-enhancing features with ethanol protection, superior detergency and the most powerful combination of water-absorbing ingredients available, all combined to land a knock-out punch for ethanol that no other product can match. It is the only ethanol treatment you will ever need.
What's With Ethanol and why is it so bad?

Ethanol Fuel concentrations are now between 10 and 15 percent.

Lost mileage and fuel economy because ethanol contains less energy than gasoline.

Water collection in the fuel and phase separation because ethanol attracts water everywhere the fuel is.

Damaged equipment from ethanol is softening and dissolving of rubber and plastic parts in the fuel system.

Bell Ethanol Defense is a one-stop solution for all ethanol problems in all gasoline-power vehicles and equipment, large and small. Ethanol Defense is the answer to your Ethanol Fuel Related Problems! 
The Bell Performance Ethanol Defense fuel treatment combines the proven benefits of the nation's oldest and most-respected multi-function fuel additive with the most powerful combination of water-absorbing ingredients available, combining both to land a knock-out punch for ethanol that no other product can match. It is the only ethanol treatment you will ever need.
Bell Performance Ethanol Defense Fuel Treatment Additive Comparison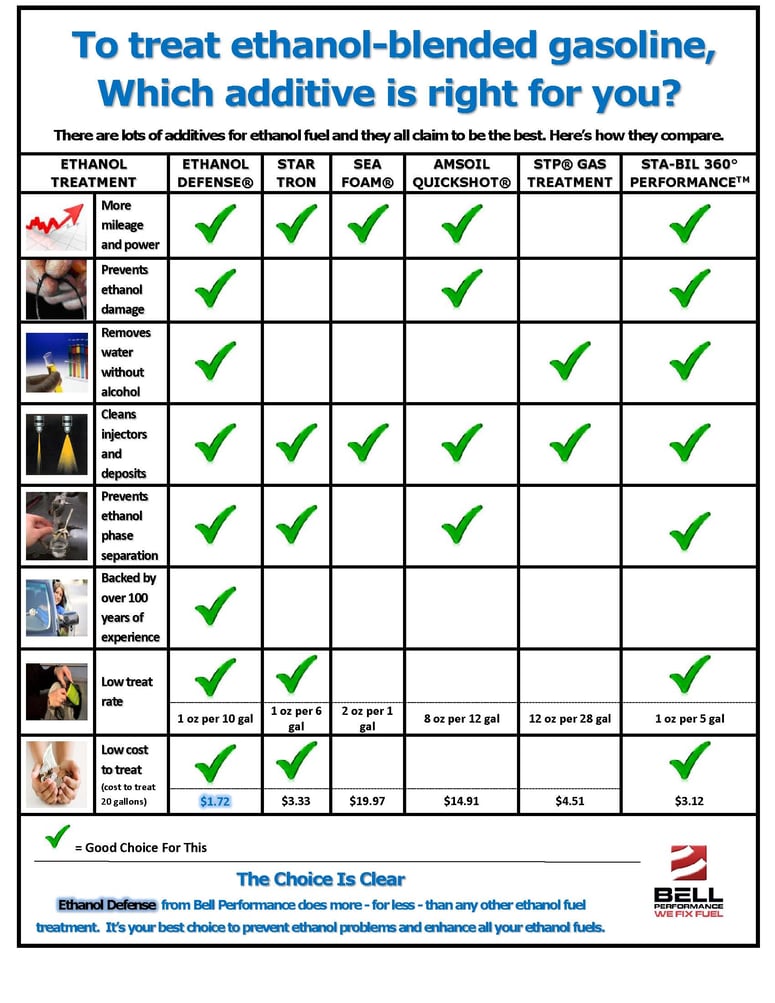 Solves Water In Ethanol Fuel Problems without Alcohol

There's no way to avoid it – ethanol pulls water into the fuel wherever it is. This can cause the ethanol to separate from the gasoline, stripping the octane rating away from the fuel and leaving you with a layer of poor quality gasoline on top and ethanol & water on the bottom (which, if burned, can cause performance problems at best and engine damage at worst).
If you use ethanol in 2-cycle equipment, the news is even worse as water keeps the fuel from properly lubricating essential metal surfaces. When this happens, it doesn't take long for catastrophic and expensive engine damage to occur.
Many of these new "water-control" potions try to work by only adding more alcohol to the fuel. Alcohol is what caused the problem in the first place; you can't fix a water problem caused by alcohol by adding more alcohol. ETHANOL DEFENSE knocks out water difficulties with no alcohol, for a real solution to a real issue.

ETHANOL DEFENSE is concentrated to provide all of these benefits at an economical treat rate of 1 ounce per 10 gallons of fuel. This means your ethanol with ETHANOL DEFENSE costs just pennies per gallon. Ethanol Defense Fuel Treatment is sold in a 32 oz container that treats 320 gallons of fuel.

The addition of Ethanol Defense to your fuel will Solve Most Fuel Related Problems In Gasoline and Ethanol Blends.

Restore your vehicle's performance and protect your investment with Ethanol Defense the oldest and most trusted high performance fuel additive on the market!



Ethanol Defense Concentrated Ethanol Treatment attributes:
Does not contain any metallics or solvents.


Will not void engine warranties!

Safe for all types of Gasoline, E10 and E15 ethanol-blend fuels


Prevents the fuel-robbing effects of ethanol by making more of the fuel available for combustion.

Controls and safely removes water buildup.


ETHANOL DEFENSE also removes carbon, sludge and gum deposits from the fuel injectors, fuel system, valves and combustion chamber.

Highly recommend preventing the problems associated with Ethanol.

Fuel Treatment is a stable compound of ash-less organic materials in a pure hydrocarbon solvent.

Concentrated multipurpose additive with a typical treat rate of 1 ounce to 10 gallons of gasoline or gasoline-ethanol blend.

Sold in a 32 oz container that treats 320 gallons of fuel.

You will notice greatly enhanced engine performance after a few tanks of fuel!

32 oz. size is the perfect size for someone who is skeptical.

Contains specialty detergents to remove injector deposits

Keeps the spray pattern consistent and maintains the performance of the engine.

Completely soluble in gasoline and can be used in all gasoline engines, large or small.  

Perfect supplement for both leaded and unleaded petrol. 

ETHANOL DEFENSE coats these parts providing superior protection against ethanol damage.

Lubricates the upper cylinder head area.

Restores Mileage and Performance

Bell Performance Ethanol Defense Fuel Treatment Benefits:
Increases Mileage

Lubricates Upper Cylinder Area

Removes Carbon Deposits

Dissolves Gums and Varnishes

 Extends Spark Plug Life

Removes Water

Improves Horsepower, Compression, Fuel Economy


Reduces Harmful Emissions

Prolongs Engine Life using a balanced combination of cutting edge, ashless organic materials.

EPA-approved and will address all the main fuel-related issues for gasoline and ethanol: 

Improves compression, power and fuel economy which provides better mileage and performance.

Provides top cylinder lubrication to protect rubber and plastic fuel system and engine parts from damaging ethanol solvency.

Removes the damaging and performance-robbing deposits from injectors and combustion chambers which can build up when ethanol dissolves fuel system parts.

Controls and removes water buildup preventing water-related engine damage.

Application stabilizes gasoline and ethanol to preserve fuel quality.
Bell Performance Ethanol Defense Concentrated Fuel Treatment is MADE IN THE USA! 
engine
Flow Rate
Item Number BP Ethanol Defense 32oz.8
make
model
year
Manufacturer Part No BP Ethanol Defense 32oz.
Product Application Ethanol Defesne Gas and Ethanol Fuel Treatement For Gasoline
height 4
width 8
brand Bell Performance
faq
Part Number
manufacturer Bell Performance
Beam Pattern
Product Note